CANCER SURVIVORS CONFERENCE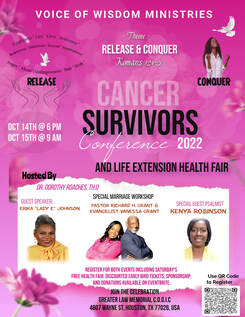 ​The purpose of the Cancer Survivors Conference is to reach out to those that are experiencing a cancer diagnosis and provide a means to inform, educate, and provide resources for them to make the right choice with their medical care. 
During the conference we will provide speakers that will address relevant topics of interest and vendors that will provide material that will assist with resources.
There will also be a time to rejoice with those that have been healed and time to commemorate those that fought the good fight against cancer.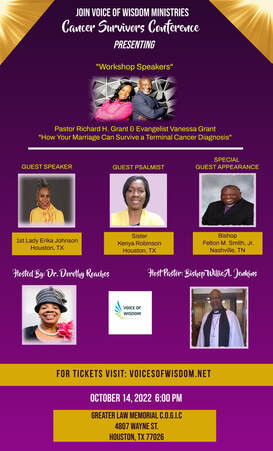 MEET OUR 5TH ANNUAL CANCER SURVIVORS CONFERENCE KEYNOTE SPEAKER FIRST LADY ERICA JOHNSON!!!
Erika Darnell Johnson, an awesome woman of God, was born on September 9, 1970. She is the daughter of Ms. Margaret Ann Woodard. Erika was baptized at New Bethlehem Baptist Church under the leadership of the late Pastor Nemo. It was there that she accepted Jesus as her Lord and Savior and began to minister through Word in song.
​Erika is the wife of Bishop Roderick C. Johnson and the Co-Founder of New Beginning Church Supernatural,
Houston, Texas where she is a Minister, Teacher, Leader, and Lady of Excellence.
She is known by all who cross her path as "Lady E." Because of her love for God, her husband, and the church, "Lady E" has birthed three ministries: Women Working Word, The Esther Ministry, and Sassy Seniors. Each ministry reaches out to women and helps them face and overcome spiritual, emotional, and physical issues that accompany the daily warfare of the Christian journey.
She ministers and teaches Life Enrichment classes, Day Bible Study, and has a strong passion for the youth for which she Co-Founded "The G.A.N.G." (God's Anointed New Generation) and is also an active board member of Destined for Empowerment LLC, a Community Development Corporation.
"Lady E" is a loving mother of two beautiful daughters: Destiny Monet and Symone Sinclaire.
She is indeed "Lady E," a Lady of Excellence in every way.
​GET CONNECTED w/ LADY ERIKA JOHNSON:
Email: erikajohnsonministries@gmail.com
erikajohnsonministries.org